Prior to deploying contactSPACE, Amnesty International UK was using a basic softphone system to manage their telefundraising.
The team was achieving great results. However, they knew that they could do even better with a more powerful solution designed with telefundraising in mind.
The team identified the following key areas to address.
Quality contact - at scale
As a key objective, Amnesty International UK fundraisers strive to deliver awesome supporter interactions.
Our focus is on making high-quality calls. We want to have conversations that leave supporters feeling closer to Amnesty – no matter the outcome of the call.
The team knew that by automating dialling and improving data management, their fundraisers could focus on delivering high quality conversations with more people.
With contactSPACE, we wanted to connect with more supporters, and raise more money.
They also knew that the team could achieve better results by developing more targeted contact strategies.
Previously, we couldn't really effectively prioritise different segments to get the most from our data. The best we could do was to say 'this has been dialled less – let's call this data'.
Eliminating manual work
Fundraisers and management would spend a lot of time managing calling lists in Excel sheets, as well as making calls manually with the softphone.
It was a clunky way of calling… fundraisers had to spend a lot of time manually dialling and updating data. We sometimes faced issues with duplication or data loss.
The team wanted to automate dialling and data management, empowering fundraisers to get on with what they do best – making quality contact.
Enabling easy compliance
Amnesty International UK needed an easy way to collect supporter consent to be called, and ensure that only consenting parties are contacted, in line with European Union General Data Protection Regulation (GDPR).
The team also required auto dialling functionality that would ensure compliance with Ofcom regulations in the UK.
There are lots of dialler-based rules that we have to comply with, relating to the number of times people can be called, how long they're dialled for, and that sort of thing.
Empowering fundraisers
With contactSPACE, non-value-adding tasks are automated or eliminated, allowing team members to do what they do best.
Fundraisers can focus on delivering quality calls, and team leaders can hone in on helping fundraisers improve their performance.
With contactSPACE we can move through data quickly, with the fundraisers and team leaders not having to think about it.
​
​This allows us to concentrate on developing our fundraisers through playing back fantastic calls and making them feel really good about themselves – whilst also supporting fundraisers to improve.
contactSPACE enables the team to focus on the quality of their messaging, above all else. And when quality calls occur, they can be easily shared with the team and celebrated.
This positivity has the effect of keeping everyone buoyant, and has really helped us achieve our fundraising and supporter journey objectives.
Complete compliance
With contactSPACE, no longer does the team have to manually verify consent before calling, or worry about calling a given person too many times.
We use contactSPACE to ensure that we ask for, record, and track consent, and ensure that we're only calling people that still have a valid opt-in. Once consent expires we can remove them from the list automatically.
Plus, in-call compliance can easily be managed using contactSPACE CallGuides, and verified using the contactSPACE Quality Assurance module.
Supporting success
Because the telefundraising team was planning a significant technology transition, Amnesty International UK knew that they needed a partner that would provide excellent support during this process.
The contactSPACE customer success team helped to ensure a smooth transition. And post-deployment, contactSPACE has continued to help the team achieve their fundraising objectives.
contactSPACE customer success have been a great help – their attention to detail and our needs has been second to none.
Improved list penetration
Since deploying contactSPACE, Amnesty International UK have seen an impressive uplift in list penetration.
The team now has the ability to create more sophisticated contact strategies, helping Amnesty International UK to make the most of their data.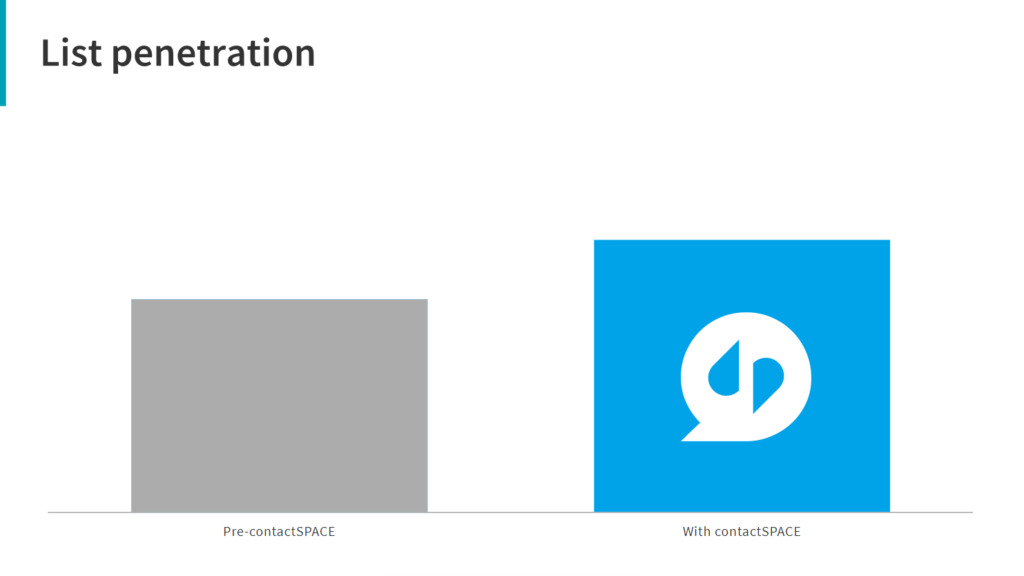 Incredible commercial success
Above all else, the telefundraising team's goal at Amnesty International UK is to help raise funds to contribute towards the organisation's mission.
Therefore, maximising return on fundraising investment is of utmost importance.
With the help of contactSPACE, the team has been able to achieve incredible commercial results.
We're in a position where we can literally charge the same or less, per contact, than an agency. And that's including the cost of contactSPACE.

We're Ready