OUTBOUND CALLING STRATEGIES
Making a call is easy. Deciding who to call and when is a little more difficult.
What's your contact centre cooking?
Imagine you're at the supermarket. You have a shopping list, and you're checking items off it as you place them into your shopping cart.
But how did you decide what went onto that list?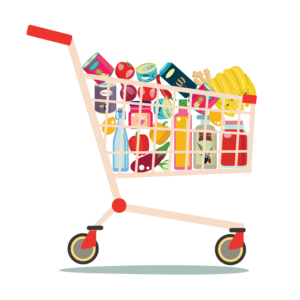 Most likely, you have a recipe, which requires that you buy certain items to make a certain meal.
In some ways, choosing a contact centre solution for your organisation might seem similar to shopping at a supermarket. You browse the market for a product with the features you want – for instance, an IVR, an auto dialler, an integration with your CRM, a PCI-compliant payment solution – the list goes on.
But you need to consider more than just the basket of features you're committing to purchase. What about the actual customer experience, and how your team interacts with and utilises your organisation's valuable data?
Consider the outcomes your agents are trying to achieve. For example, soliciting donations or making sales. This is essentially the meal you're trying to cook. But this raises the question: what's the recipe? How do you use these different functionalities to achieve the best-possible outbound results?
contactSPACE is a holistic solution that bridges the gap between people and systems. The software enables agents to make the right contact with the right person at the right time, empowering your team to achieve better business outcomes for your organisation. Funnel management
As a prospect, lead, or prior customer progresses towards your ideal outcome, they will move through different stages in your organisation's sales funnel.
The challenge is to nurture leads through this process effectively: encouraging contacts towards your ideal outcome, and minimising leakage in the funnel.
You need real intelligence in order to make the best-possible communications in your nurturing or relationship-management process.
This includes post-purchase as well – whether you're looking to develop regular givers or loyal customers, having "sticky" contacts who love what you do is going to drive awesome results in the long term.
What is funnel leakage?
Instead of progressing towards your ideal outcome, contacts may become disinterested, distracted, or preoccupied by other goings-on in their world. These temporarily-disengaged contacts still have an incredibly high propensity to convert, but just need the right encouragement, at the right time.
Leads who exit the funnel prematurely effectively leak into the ether – assuming no follow-up strategies are in place.
What contactSPACE provides is the ability to plug the leaks in your sales funnel, enabling you to get the absolute most out of every single byte of data on-hand.
The system will identify contacts who are in the process of leaking, and push them back into the appropriate stage of the sales funnel, helping them on their journey by way of outbound contact.
However, contactSPACE won't waste time calling people who simply aren't going to buy. Records can be flagged as unqualified in a single click, and our smart dialling strategies ensure you're not calling numbers that are never going to pick up. While the human touch is incredibly important in generating better relationships with customers, computer systems, with the help of artificial intelligence, are much more effective in ensuring a rigorous, consistent approach to making contact and maximising the utility you're able to get out of every number on your list.
Meaning, even if you assign users to "own" specific contacts, you may be missing out on opportunities to nurture these relationships and develop a higher number of quality interactions.
contactSPACE is a comprehensive workflow management solution – not just an auto dialler. We provide the information and establish the processes your users need to achieve better outcomes – whether you're aiming to maximise sales, donations, collections, recommittments, or any other type of conversion.
First, the solution decides who to contact (and how to contact them), based on what would make sense for your organisation.
Second, the system considers the capabilities of your agents in allocating calls to the most-qualified users.
Third, contactSPACE CallGuides® provide the information your team needs in-call to deliver the best-possible outcomes.
1. Call Prioritisation
Say you have a list of leads, prospects, or previous customers, either as a list in your CRM, or saved separately as a CSV file. Or you may have a stream of inbound leads originating from your website, or be utilising a number of unique data sources.
How does contactSPACE AI decide who to contact next?
Depending on your specific needs, there are a few ways of setting up your call prioritisation logic.
Note that inbound calls are always prioritised over outbound calls. Meaning, if a contact dials in, you won't leave them hanging.
You may receive inbound enquiries on your website, to which you make a personalised response in order to find out more about the prospect's needs and how you can help them. In these situations, your newest contacts are the hottest, and your speed-to-lead is absolutely crucial. You can use last in first out (LIFO) in order to contact interested parties as they come in – the latest record goes to the front of the queue. Out of hours, the records accumulate in order of freshness for agents to review on the next business day.
It's also possible to target fresh records added manually, as opposed to just those added in real time. The system will check the date/time added of the record and work its way back from there.
You can also prioritise callbacks on an agent or initiative level. If your user or team has scheduled to contact a prospect who requested a call-back, this record will advance to the front of the queue when the time is right.
Plus, you have the freedom to define your own specialised prioritisation rules using the contactSPACE API.
contactSPACE is designed to take the business rules associated with these outcomes into account in determining who to contact and when. The system considers every stage of the funnel – not just the final outcome.
For instance, if a contact doesn't pick up, they won't simply be abandoned. You can choose how many times you want to attempt that number before it is shelved for a specific period of time. It's also possible to define how many attempts to use, depending on the reason that the call didn't connect. For example, it's probably not worth trying a disconnected line more than once, but on the other hand, if the number rings out, you'll likely want to try it again at a different time of day or day of the week.
This raises an important question. When do you try them again? Randomly choosing a different time isn't likely to be particularly useful.
You can use our call-time optimisation module (more on this below).
You can also prioritise the allocation of specific leads to specific members of your team based on their individual capabilities and strengths.
All of these data strategies (and more!) are yours to do with as you please on the contactSPACE admin interface, and as a part of our deployment process, we'll show you how to use each and every one.
If you'd prefer our experts to analyse your results, and optimise your settings for the best-possible results, our Pulse consulting service can give you the helping hand you need to get the most out of your data.
contactSPACE has the capability to determine when the best time is to contact someone, using proprietary machine learning. Based on prior interactions with a specific number on the platform, we can determine the best times to dial.
For example, if the system has noticed that a specific person has a 80% chance of picking up between 1-2pm (probably their lunch break), a 50% chance of picking up from 5-6pm, and a 10% chance of picking up at any other time, it will try them on their lunch break first, then after work if the connection is unsuccessful.
Call-time optimisation also accounts for your initiative settings. If you want to prioritise a specific set of contacts at specific times, this will override any call-time optimisation logic that contactSPACE applies to your lead allocation.
Initiatives also enable you to put the perfect agent on every call, without assigning contact owners manually to each and every record.
contactSPACE has initiatives as opposed to campaigns. This is more than just a different name.
Initiatives enable you to take a holistic approach to designing contact strategies. This strategic functionality is key – you can do so much more than merely assigning different agents to specific lists.
contactSPACE enables your team to avoid contacting people when they're at work, or when they're asleep,  ensuring that you're not wasting time dialling people who are highly unlikely to pick up.
This functionality is driven by our call-time optimisation module.
Using contactSPACE target filters, it's possible to assign extremely granular sets of skills to specific agents. This allows you to determine who the system prioritises when allocating an outbound call, based on contact-specific or initiative-wide attributes.
contactSPACE also allows you to define the capabilities of different user groups, meaning you can get up and running quickly if broad sets of agents have widely-equivalent levels of expertise.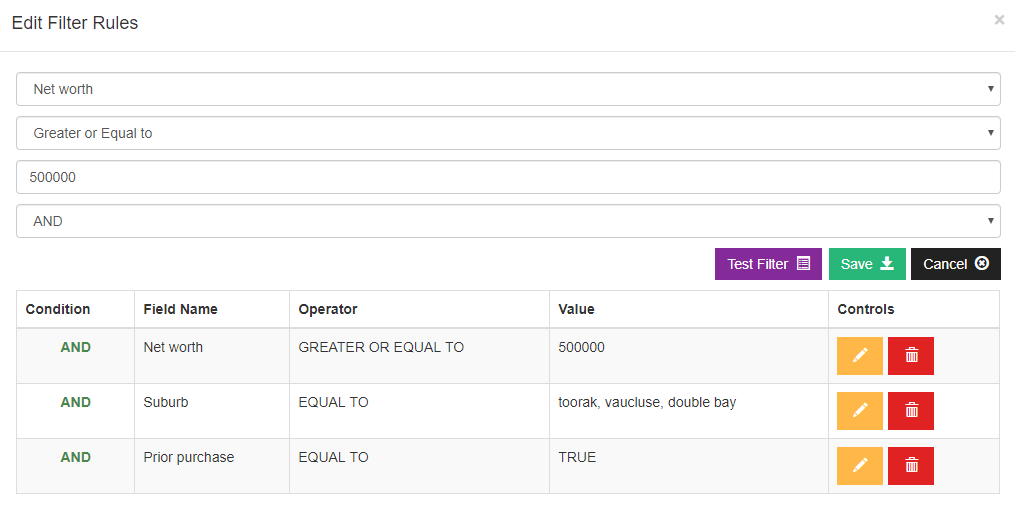 5. Assign filters to agents

You have complete control of who you're dialling and when, and which member of your team they're talking to.
These settings enable your team leaders to get the most out of your callers' individual strengths, based on the characteristics of the people you're dialling.
From this point, it's possible to improve your filtering on an ongoing basis by monitoring agent-specific performance with contactSPACE real-time reports.
You can also schedule your filters to only run at specific times of day if desired, allowing your team to target groups of leads when they're most likely to pick up.
At any other time of day, the filter will be automatically turned off, meaning it will not affect any other prioritisation rules.
This is useful in situations where, for example, your team would like to target specific groups during their lunch hour or at the close of business, while responding to leads on a LIFO basis as they come in (or dialling based on freshness) during the rest of the day.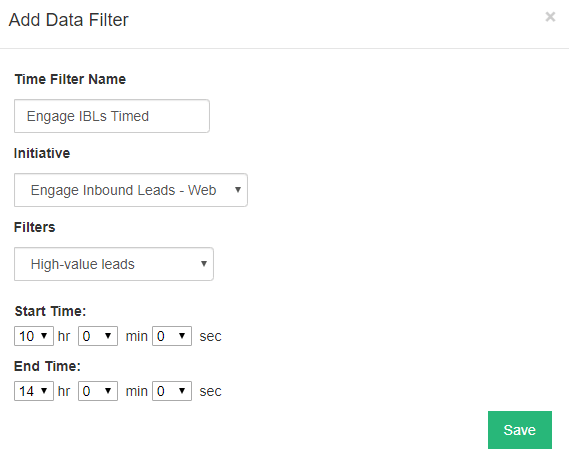 7. Choose a dialling mode (and dialler settings)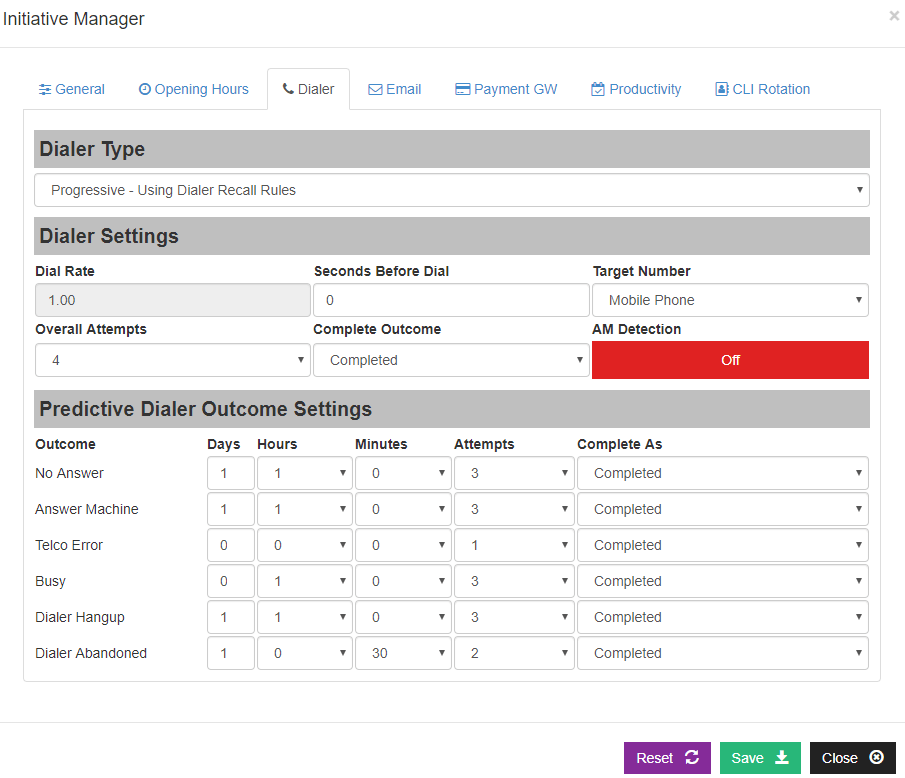 Our dialler settings give you an incredible ability to get the most out of every single second your contact centre is running.
contactSPACE enables you to shelve leads after a set number of failed connections, and you can change the number of dial attempts dependent on the reason for failure.
Plus, you can define exactly how long you'd like to stay connected before moving onto the next number. If you find that, for example, most contacts pick up within 15 seconds of their phone beginning to ring, you can choose to automatically end calls after this period of time to reduce the amount of time agents waste listening to dial-tones.
This helps to maximise efficiency, especially in situations where there are other numbers your team could be calling.
You have the visibility to find the settings that will work best for you, with our powerful reporting module. Filter your contact/conversion rates based on dial attempt, to uncover the best settings for your specific datasets.
Stop worrying about contacting the wrong numbers. contactSPACE can run your list through the do-not-call register in real time, automatically filtering out numbers on the list.
8. CallGuides®
A qualified agent is now connected to a contact at just the right stage in the sales funnel – they picked up because you called them at the right time of day, remember? 😉
Now what happens?
The agent interface will display your initiative and record-specific CallGuide®. CallGuides® are a means of integrating prepared dialogue prompts and call personalisation into a streamlined agent workflow.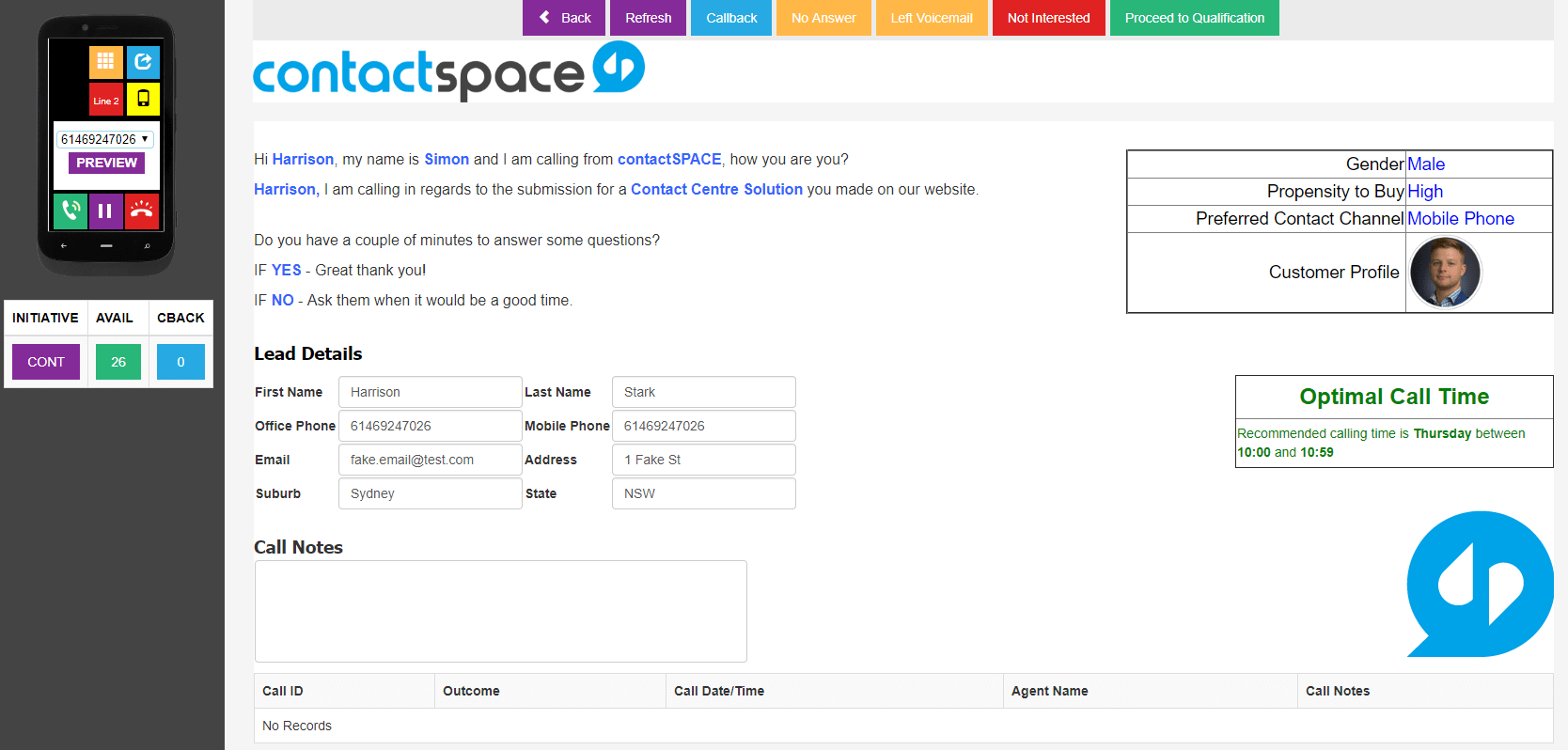 How the contactSPACE interface previews a call.
Standalone scripts can be rather unhelpful on some types of initiatives. At times, they lead to a stilted, forced-sounding pitch – it can become really clear to the prospect that your agent is reading pre-prepared material.
But without scripts, how should you keep agents on-message?
CallGuides® can provide as much or as little guidance as your team needs – you can include specific phrases or paragraphs agents can utilise, or provide broader instructions to callers to ensure that your team members are all on the same page. Everything is integrated and everything is intuitive – no longer will agents be forced to rely on external MS Word windows or clunky scripting programs for the information they need.
Plus, CallGuides® pull lead-specific data from your list or CRM to populate the agent interface. This allows your users to better-understand who they're talking to, and what their wants/needs are. It also allows for more efficient record previewing and post-call wrapping – all from the one screen.
But the best thing about CallGuides® are their flexibility. You can customise the agent interface for each and every initiative if you so choose, without having to write a single line of code. Everything from colors, to images, to field placement can be edited instantly through our intuitive drag-and-drop editor.
Do you use personas to craft a more persuasive message? CallGuides® are up to the task! Simply define the different groups of buyers you're targeting based on a characteristic or characteristics of the record. Then, craft a customised CallGuide® for each persona your agents will be talking to.
Why contactSPACE?
contactSPACE exists to reduce complexity in the contact centre environment.
The system is built on a philosophy of user-centric design. Meaning, everything is as intuitive as humanly possible, for both users and team leaders.
No matter whether you're defining skills groups, designing the agent interface, or setting up your dialler, the process is effortless.
Outbound Featureset
Learn more about the specific contactSPACE functionality that enables you to make incredible outbound contact.
ASTIA (Outsourced Outbound)
ASTIA are a contact centre outsourcer, servicing a wide array of organisations across the financial services industry.
After deploying contactSPACE, ASTIA grew from fewer than 10 agents to more than 50 in the space of less than a year.

MonDial (Telefundraising)
As donor management specialists, MonDial empower charities including UNICEF, Save The Children, PLAN International and Guide Dogs Australia to achieve better telefundraising outcomes.
Learn how contactSPACE enabled MonDial to achieve a 30% reduction in call-handling time after making the switch.
Strike Force Sales (Lead Generation)
Strike Force Sales are business development specialists – enabling organisations like American Express, Sony and ING to book appointments and prospect for leads more efficiently.
Discover how Strike Force Sales were able to ditch their on-site IT team after transitioning to contactSPACE.

Want more info?
Download our free product guide to get up to speed.