The need for speed
Pro:Direct Sport handle a massive volume of customer service enquiries for their soccer, running, rugby, basketball, tennis, and fitness brands, operating across Europe.
It's crucial that the team is able to deliver timely, quality customer interactions, every single day.
As a result, Pro:Direct Sport needed a fast, smooth deployment of their new contact centre solution, to minimise service disruptions.
We really needed to get something in and working straight away.
Pro:Direct Sport also wanted to minimise cost and technical complexity, to ensure a smooth deployment.
contactSPACE stood out as a suitable solution, because it could be rolled out with very little technical hassle and minimal up-front costs.
Other providers wanted large upfront professional services fees, and they wanted a dedicated link. Having to install a new link would have added a lot of time and cost to the setup.
Improved visibility
With their new solution, Pro:Direct Sport was looking to increase visibility into the results their team was achieving, in order to improve performance.
We were flying a little bit blind. The team really needed visibility into who was on a call, how long they'd been on the call, their wrap time, their handle time – these sorts of metrics.
Forming a partnership
The team at Pro:Direct Sport was also looking for a vendor that would put their needs first, and work with them to ensure that they were getting the most out of the solution.
We wanted to work with a partner that would value us. Having close collaboration with vendors is really important to our team, which why we went with contactSPACE.
Forming a partnership
Pro:Direct was able to get up and running with contactSPACE in a matter of weeks.
Deployment was painless. We got contactSPACE implemented very quickly.
Once up and running, agents and team leaders were able to deliver successful interactions extremely quickly.
As a result, Pro:Direct faced next to no service disruption during the transition, ensuring that customers continued to receive quality, timely responses.
Our team was able to begin using contactSPACE almost instantly. It's very, very intuitive.
Since deployment, the contactSPACE customer success team has always been on-hand to help Pro:Direct Sport get the most from the solution.
contactSPACE has been extremely responsive, which is a great help. The support has been really good.
Delivering even better customer service
After deploying contactSPACE, Pro:Direct Sport has been able to deliver even better, more efficient customer service.
The team now has unparalleled visibility into their customer interactions on every channel, allowing them to continually improve agent performance.
Customer service improved very quickly, because contactSPACE allows us to easily analyse key metrics such as answer times, abandon rates and average handle times. We can also look at individual agent performance and help them improve how they're doing.
Managing seamless omnichannel contact
Pro:Direct Sport have a wide range of support channels available, enabling customers to get in touch using the method that suits them best.
As inquiries come in by phone, email, or live chat, Pro:Direct is able to easily prioritise and allocate these requests among agents.
Email is our biggest channel, so it's important that we handle these enquiries effectively.
​
​With contactSPACE, we can immediately respond to calls and chat requests as they come in, while also effectively handling the large volumes of emails we receive.
At the start of the pandemic, the team used the flexibility of contactSPACE to pivot exclusively to live chat interactions. This allowed the team to instantly simplify the support process as lockdowns came into effect.
When COVID started, it was great to be able to go immediately to chat-only. While contactSPACE can definitely facilitate calling from home, some of our agents weren't quite set up for it – so going to just live chat made the work-from-home period a lot easier.
Improved efficiency
With contactSPACE, Pro:Direct Sport has been able to massively improve the efficiency with which they respond to customer enquiries.
As an example, the team has been able to increase the number of emails handled per hour by 50%.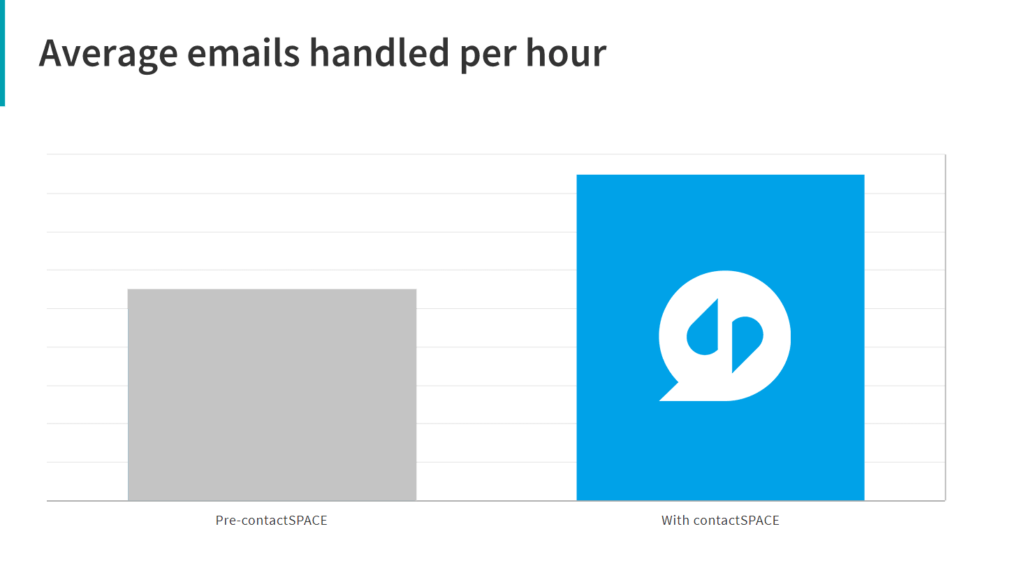 These efficiencies have been achieved thanks to the effectiveness of contactSPACE email templates – they're very user friendly.
Uncovering valuable operational insights
Pro:Direct Sport also use contactSPACE to learn more about the root causes of customer issues, helping the operations team resolve these problems and improve the customer experience.
We can cross-reference contactSPACE email outcomes with our other data to easily spot trends as they arise. For example, with our 'Where is My Order' (WISMO) enquiries, we found that a carrier responsible for 8% of our deliveries was responsible for 40% of our WISMO emails. These types of insights are very valuable to our business.
Plus, with outbound calling, Pro:Direct has also been able to uncover incredible insights into the marketing messages that resonate best with customers.
The information we've been able to get from the outbound calling has helped us to decide what content we push on our social media, and optimise the USPs we use on our website. This has been a massive help.

We're Ready