Prior to coming on board with contactSPACE, the team at WWF-Australia were using a basic telephony solution to manage their supporter care communications.
The team was achieving great results. However, they knew they could do even better with a more powerful software solution.
Specifically, the team was looking to address the following key focus areas.
Ease of use
Catering to the diversity of the supporter care team, WWF-Australia needed a solution that was intuitive and easy to use.
The team wanted to empower agents to focus on what they do best – making awesome interactions – without having to worry about learning how to use the software or other technical complexities.
Visibility and reporting
The team's previous solution had limited call recording capabilities, and reports were complex and difficult to generate.
WWF-Australia was looking to greatly increase visibility into its results, allowing the team to continually improve performance.
Empowering agents
The team at WWF-Australia manage a variety of different types of calls across their different supporter care initiatives.
As a result, it's critical that agents are equipped with the right information to ensure that every single conversation is a quality, personalised interaction.
A better agent experience
With contactSPACE, WWF-Australia found that the solution was intuitive enough for agents to get up and running with very little training required.
contactSPACE is very easy for the team to learn because everything's there on the screen – they know what to click. They've hardly needed any training.
Using contactSPACE CallGuides, agents now have access to all the information they need inside a single interface, making it easy to deliver a quality interaction.
Whether it be prompts or donor information, it's all there for them.
Empowering team leaders
The ease-of-use of contactSPACE has also proved be a massive bonus for team leaders.
Interfaces and initiatives are easy to build and edit, allowing team leaders more time to focus on the task at hand.
contactSPACE is very easy to set-up, and very easy to change. With interfaces, once you've set up two or three pages it becomes very easy to make more, and to manage the agent workflow.
Plus, it's now extremely easy for team leaders to produce quality reports.
Reporting is very straight-forward, and very insightful. Simply click a few buttons, and there's the report. It really frees up my time, allowing me to focus on other tasks.
Ongoing support
Because contactSPACE serves as the backbone for all phone-based supporter contact, it's crucial that quality support is always available.
WWF-Australia have been extremely impressed with the level of support provided by contactSPACE.
The support has been great – absolutely fantastic.
Seamless direct debit commitments
Since deploying contactSPACE, WWF-Australia have achieved a massive improvement in their direct debit conversion rate.
The team can now seamlessly set up recurring direct debit commitments over the phone, rather than having to send supporters a form to fill in.
This has led to a significant improvement in conversion rates and increased regular giving.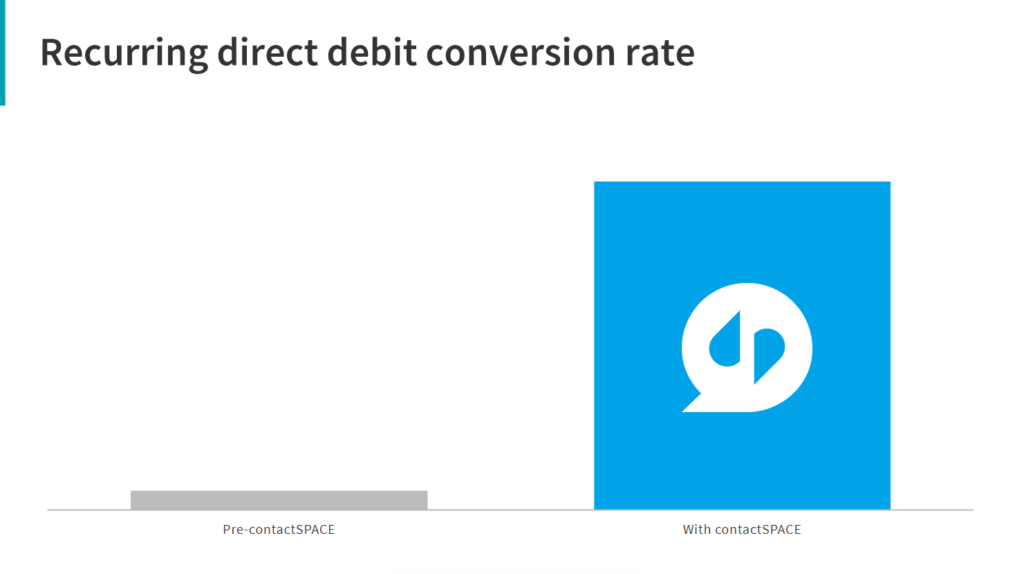 Increased save rate
WWF-Australia have also noticed a significant uplift in the save rate their supporter care team is achieving. Recently, the team have been able to increase the average proportion of supporters that continue their regular contribution after calling up to cancel.
There are a number of drivers behind the results, and many different variables that can affect the save rate at any given time.
However, contactSPACE has played a part in helping the team respond more effectively to supporter inquiries.
The ease-of-use and prompts on the screen have definitely helped improve the quality of our supporter interactions.

We're Ready