The importance of Customer Experience
With the primary focus of many organisations being the delivery of an outstanding Customer Experience (CX), it's critical that contact centres can manage performance and quality well; whether it's improving customer retention, improving customer satisfaction, or making more sales. 
For ongoing agent success and performance, it's vital that supervisors and contact centre managers have complete visibility of what is happening within their contact centre. Whilst historical reports are useful, often the best contact centre managers are the ones with their fingers on the pulse; able to adapt and rectify any problems that arise in real time or instantly leverage and reward high performance.
At contactSPACE, we believe you shouldn't be doing what you can't measure and as such we have looked to provide our customers with a range of quantitative and qualitative performance measuring tools so that managers and business owners can have a more holistic view of their contact centre's performance.
These tools range from the typical historical reports and real-time centre wallboards and live dashboards designed for every member of staff, to coaching and training tools like call recording, supervisory live-listening and call whispering . contactSPACE also facilitates a 360-degree quality management strategy as calls can be initially scored by an agent, then sent to an after-call survey to be scored by the customer. All the data is consolidated on one record, including any feedback which was sent to an agent to review and accept, before finally being forwarded to a quality assurance agent.

(Emoticon feature)
Reports
The contactSPACE reports have been designed specifically for contact centres and they enable supervisors to quickly identify results and then drill into these results to easily identify opportunities for improvement and measurement of performance. Management has control over the way in which they view and slice the data and can customise their call outcomes relative to the needs of their Call Centre.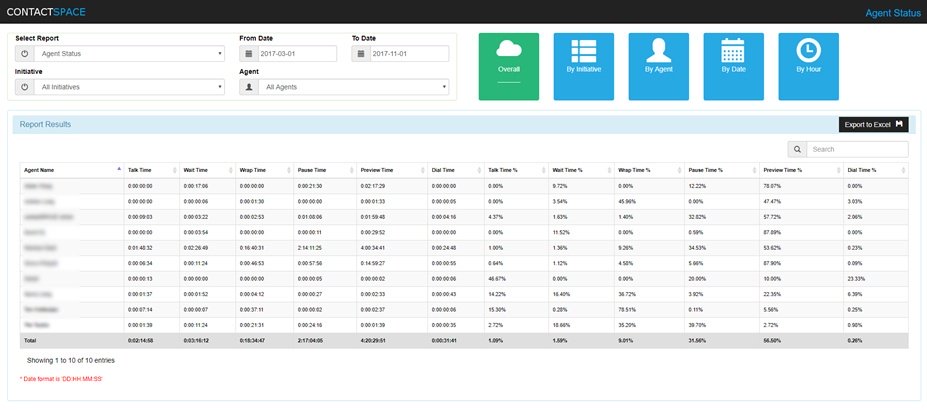 Reports are split into:
Agent Performance
Outbound Performance
Inbound Performance
Centre (QA) Performance call
LiveChat Reports
Email Reports
All reports can be exported to MS Excel. Additionally, contactSPACE enables a 'data dump' export of all data and activity so that customers can customise and style their own reports.
Dashboards
Customisable dashboards provide contact centre managers with real-time visibility across the contact centres, as well as helping to motivate teams and to ensure maximum productivity. 

Agents are provided with their own individual dashboard within contactSPACE, empowering them to have complete visibility of their current calling activity statistics. They can see how they're performing relative to their set KPI's; view the status of the outbound data (for outbound agents) including fresh leads, and they can manage and view their call back history. Agents are able to identify what they need to do to meet their goals and targets.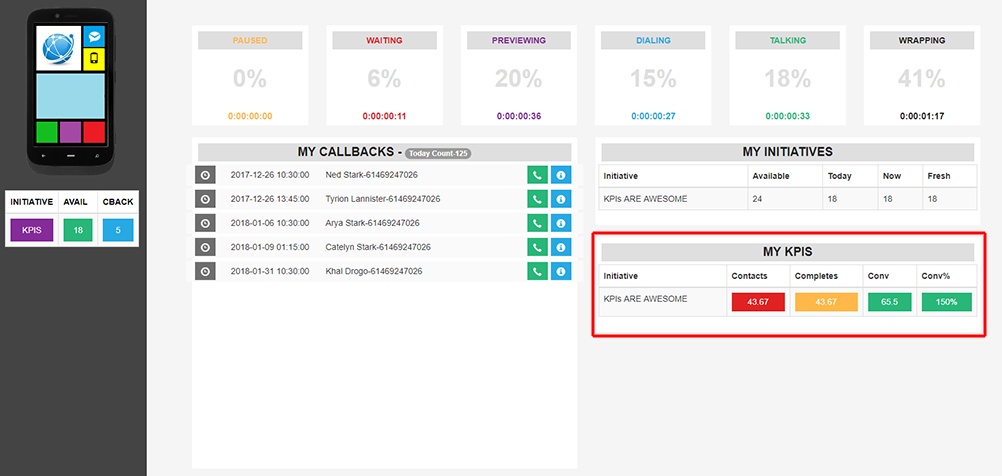 Quality Control and Quality Assurance (QA)
It's the management of a contact centre's quality that really affects the Customer Experience (CX). The contactSPACE QA module enables you to take full control of your QA compliance obligations to your clients, as well as the development and training of your agents, ensuring that a desired level of quality is maintained. The solution enables an administrator to create a Quality Assurance Initiative, complete with unique and customised questions and a scoring matrix. One or more data feeds can be created sending calls to be reviewed and scored by a QA Agent. Once calls are scored, feedback can then be provided to agents.
Call Coaching
Whilst Quality Assurance is fantastic, often supervisors need to listen to calls outside of a Quality Assurance environment, and to this end, contactSPACE offers a call recording module through an easy-to-use supervisory portal, whereby supervisors can Live Listen, Live Whisper and Live Call Coach. 
After Call Surveys
It's important to capture customer feedback and to gauge their relationship after speaking with an agent. contactSPACE provides the facility to capture this feedback through IVR-driven after-call surveys, providing NPS (Net Promotor Score), CSAT (Customer Satisfaction Score) and CES (Customer Effort Score).
To learn more about contactSPACE, give us a call on 1300 360 553 or complete the form below and we'll get in touch shortly.
You might also be interested in " How to improve customer retention "